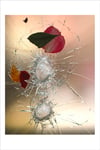 "Fleur des Champs" special edition print
« Fleur des Champs » (Wild flowers), 18 x 24 cm (7 x 9,4 '').
I took this picture last year during the riots in Paris, on the Champs Elysées. It was extremely tense between the police and the demonstrators. Stones, teargas and a lot of running from one side and the other.
And suddenly, there it was, on a window : a snowball causing an explosion of flowers. Beauty in the core of chaos.
This, to me, is a picture of hope.
It is also a direct hommage to all the feminist and gender equality fights that take place in France at the moment. We still have a lot to do, but better times are coming. We are snowballs with flowers inside.
——
«Fleur des Champs»
J'ai pris cette photo lors des manifestations parisiennes, sur les Champs Elysées. Une de ces journées avec beaucoup de gaz lacrymogène, de pierres, d'incendies… Quand tout est tellement tendu que vous savez que la situation peut éclater en une seconde.
Et tout d'un coup: une boule de neige créant une explosion de fleurs sur une fenêtre brisée.
C'est, pour moi, est une image d'espoir.
C'est aussi un hommage direct à tous les combats féministes et d'égalité des genres qui ont lieu en France en ce moment. Nous avons encore beaucoup à faire, mais des jours meilleurs arrivent. Nous sommes toutes des boules de neige avec des fleurs à l'intérieur.
18 x 24 cm (7 x 9,4 '') limited edition of 20.
Archival pigment on archival Fine Art Baryta 325 gr paper.
Numbered